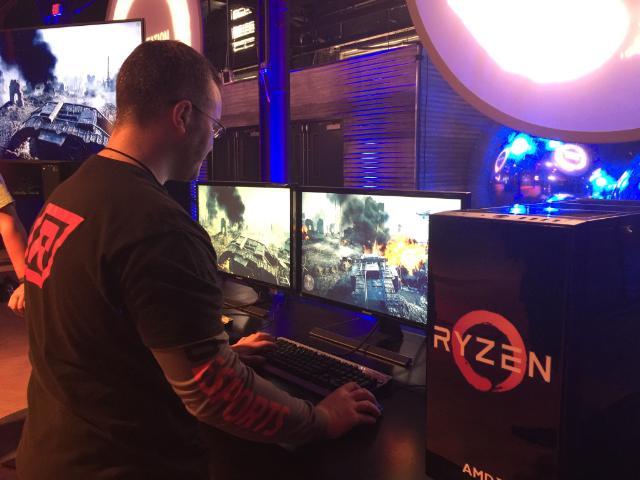 I'm on the AMD Red Team Plus, and for the New Horizon event we had a get together called The Gathering. Here is an idea of what being Red Team Plus is like and also everything I can tell you about the new Horizon Event that was on the 13th of December in Austin Texas.
First off, I flew to Austin and arrived at the airport around 2PM. We all stayed at the Hyatt in downtown Austin. The first day we were there was Sunday and that was mostly the day when everyone arrived. We did do a stream later in the day, but due to th not so stellar hotel internet the playing of Duck Game and streaming that did not go so well. Still, was really fun meeting everyone on the Red Team Plus for the first time and playing a really competitive shooter? Well more like platformer game, together.
Monday was really awesome, the entire Red Team Plus were at the AMD headquarters in Austin for the day from 9 until 5 or so. We did a variety of things, like met with a number of the AMD employees working on a variety of products, from CPU's to GPU's to OEM relations. One really interesting thing was getting to see the AMD product showcase room where there was a number of things like a Fury X and die/core next to it:
Also a server:
Among a variety of cool things like the Playstation set up with the VR headset, a couple of Freesync demos, and a whole room setup of the Oculus Rift with a variety of games.
The VR room:
The rest of the day was a lot of meetings, lol. Some about OEM stuff, which was essentially a Q&A, some other meetings, and then a very long session on media etiquette and how to talk to reporters, how to take an interview, etc. and it was actually quite fun in that one. A pic from it:
We did have lunch while there at AMD HQ, and it was actually really good. Way better than a college campus.
After that, we had… more meetings, lol. Some of which were super interesting, some of which not as much but we got finished around 5:00 and then all went back to the hotel until leaving for dinner at a local restaurant. After that we all hung out at the hotel until the wee hours of the morning.
Tuesday:
Up in the morning at 8 again, left at 9 to go to AMD HQ (again :P), and we got to try out the Assassin's Creed VR experience, which was really interesting. Personally I didn't find it as immersive as a videogame is, but it still was really cool to be "in" a movie… if only in VR, still was cool.
And then the actual New horizon event, which was EPIC to actually be at. I met Robert Hallock, Dr. Lisa Su, James Prior, and a number of other AMD employees and also a bunch of really awesome people that were there.
Also an awesome bag of swag:
After that, we all went and had dinner. After that was over the whole (well most of the RTP anyway) hung out in one of the hotel rooms for a while, hanging out, talking about all the cool tech we'd just seen and a variety of other things.
After that was over we all left and got ready for the next day, which was leaving the event. We all said our farewells and headed home that day, and it was really interesting for me at least going home as there were a few storms on the way home (it being winter at the time in the northern Midwest where I'm from).
That about concludes my coverage of the New Horizon event, and if you have any thoughts on this or anything you would like to ask feel free to drop a comment here or ask me on twitter @Nik_Caven or whatever you would like to do. Thanks to AMD for the trip down to the New Horizon event and everything else you do! If you would like to find out more about the Red Team and Red Team Plus, you can head over to the AMD Community forums and find the blog posts there about both. Thanks everyone for reading!